OBITUARY FOR JEANNETTE (JAN) DEACON.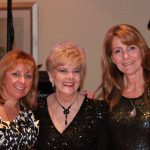 It was with great sadness that I was informed of the death of Jan who passed away following a long illness, on Saturday11th July. As we go through life we meet many people but only a very few make a lasting impression on us. Jan Deacon was one such person. She literally lit up any room in which she appeared with her beautiful kindly smile.  Jan was secretary to the BICC for a number of years, taking over the role at a time of financial crisis for the club. When she left the post due to ill health some years later, the club's finances had been restored and the membership was on a hyperbolic ascendancy. With husband Albi at her side the two soulmates had steadied the ship and taken the club into a period of sustained  growth.
Along with the other members of the Gwent Greater Distance Club I will always appreciate the help, support and encouragement that Jan gave the Welsh members when we first joined the BICC. Without this unstinting support I feel sure we would have struggled greatly.
Having said all the above when it comes down to the basics Jeannette Deacon was a truly lovely lady. Rest in peace my friend. Condolences to Albi and all the family at this time of their great loss.
Gareth Watkins on behalf of all Jan's Welsh Friends.