HOW TO REPORT A LOST PIGEON
… a lost racing pigeon really needs your assistance to repatriate it to its owner, so please help if you can!
Should a racing pigeon take refuge on your property, then the bird is probably just temporally disorientated and we would advise you to feed it with either some dry uncooked rice, peanuts, bird seed or crumbled well done toast (a must have is a separate dish of water). Normally during this period the bird will make a move to return to his home loft. However, should it not make an attempt to leave and you are concerned as to it's welfare and are able to catch it, then write down the full leg ring number of the metal band on it's leg and contact one of the appended organisation below who will then advise on the best course of action. Should the pigeon be injured, then contact your nearest RSPCA office or Animal Health Centre.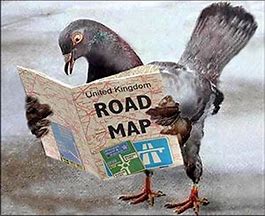 First letters of the ring number indicate organisation to contact:-
(offices are closed evenings and weekends)
GB- click this text to report GB ringed birds to the RPRA or call 01452 713529
IHU- – 028 9064 4231 – 00353 1421391
NEHU – 01912 625440
NWHU – 01257 421271
SU – 01698 286983
WHU – 01443 441010