This page for news items, links to other pigeon related sites, breaking RPRA and International news
17th May  2022 – North Road race programme (First NR race 28/05/2022) and information Here
16th May  2022 – Third race (28/05/2022) now from GUERNSEY and not St Philbert as planned.
2nd May  2022 – Second race now from GUERNSEY and not Falaise as planned.
Also two marking station times have been revised ~ Steventon will now be 11:00am to 1:00pm and Sunbury from 16:00 to 18:00
15th April 2022 – 2021 Annual Presentation at Epsom – Comprehensive report with photos Here
12th April 2022 – 2022 Fixture Card added – Full details Here
28th March 2022 – A £3 Fuel Surcharge will be applied to members entries starting from the first race of 2022
28th March 2022 – First race 30th April 2022 changed from Falaise to Guernsey
14th January 2022 – 2022 List of Officials and Committee- Full details Here
20th December 2021 – Charity for 2022 – Full details Here
15th December 2021 – Ace Pigeon 2021 Awards Here
25th November 2021 – VOTE on members proposal ahead of the AGM Here
24th November 2021 -2022 Race Programme … details here
27th October 2021 – Annual Presentation report and photographs Here
23rd October 2021 – New 2022 Member application form Here and Existing member renewal form Here
26th June 2021 – New Marking Station Little Harrowden replaces Northampton. Full details Here
26th June 2021 –  Truro National 2 cancelled due to weather conditions . Next race 3rd July 2021 Elgin
14th June 2021 –  Basketing at SUNBURY for BERWICK will be 1400 to 1500 hrs
7th June 2021 –  Basketing for ALL North Road races will be as the International times in the handbook 
30th May 2021 – Updated 2021 Race Programme subject to change Hexham 4047 replaces Blaydon Here
28th May 2021 – Updated 2021 Race Programme subject to change Here
23rd May 2021 – Wadebridge National result Here and full race report Here
21st May 2021 – VERY IMPORTANT Racing news update here
11th May 2021 – Updated Marking Station Times – now as per the Handbook Here
9th May 2021 – Updated Fixtures Table Here
8th May 2021 – Updated SOUTH road race programme Here
22nd April 2021 – Ready to roll –  the 2021 updated transporter Here
14th April 2021 – Hexham (4047) replaces Blaydon as a minor issue with access to the site.
9th April 2021 – latest North Road race programme updated 14/04/2021 and information > > suspended
20th January 2021 – updated 2021 Marking Station maps and list  > > Here
14th January 2021 – updated 2021 Race Card issued with revised international dates and new racepoints and codes > > Here
9th January 2021 – updated General Rules, Clock Rules, Racing Rules and Renewal membership application forms 
Note – Renewal application has a new section to allow voting papers via Email and to vote electronically in future
28th  December 2020 – New for 2021 – Le Mans racepoint replaced with SABLE-sur-SARTHE code 5145 – full details > > Here
1st  December 2020 – New for 2021 – West Midlands Marking Station – full details > > Here
14th November 2020 – New for 2021 – Dublin Marking Station – full details > > Here
26th October 2020 – Race Card for 2021 agreed and available > > Here
12th October 2020 – New update and Presidents statement relating to meetings and Presentation etc > > Here
2nd October 2020 – Two new Trophies added to the list. Read more Here
7th August 2020 – Presentation Weekend on 5th & 6th February 2021  read more updated information > > Here
The presentation weekend has been arranged at the, Imperial Hotel in Torquay. The Imperial is probably one of the best hotels in Devon, overlooking Torbay and is well deserving of its' excellent reputation. The event will be held over the first weekend in February 2021, on the 5th & 6th, with the BICC Dinner on Saturday 6th February.
3rd August 2020 – Horndean Marking Station will re-open for the last 6 races (3 YB/3OB) BUT will opening times of 16.30 to 19.30
21st July 2020 – updated race programme Here
15th July 2020 – Herne Bay Marking Station now replaced with Deal Welfare Club
1st July 2020 – In line with the BICC policy of being transparent and honest, we have to make an embarrassing statement to our members and the wider Fancy at large, which is that when the Lorries were returned to the UK and undergoing a full clean, two pigeons were discovered still in one crate. The pigeons are still in excellent condition and will be returned ASAP to their owners, and are currently being cared for by our President Mark Gilbert.
The convoyer who is new to the role was told to thoroughly check the crates after liberation, and has now received a formal strong reprimand stating if this were ever to happen again his employment with the BICC would immediately cease, but for the moment it is hoped as part of his 'Learning Curve' it will never ever happen again. To the owners of these birds the BICC can only apologise profusely.
Marking Stations Higham & Steventon will be open from Poitiers onwards. Horndean and Ash remain closed until further notice
Poitiers Race 11th July 2020 – MARKING DAY changed to 8th July (1 day earlier than previous) due to Ferry crossing times.
19th June 2020 – International dates updated with various changes and information here
13th June 2020 – First National race from Falaise          Easy access racing menu Here
5th June 2010 – Langeais race point has been closed. Probably will be replaced with St. Philbert-du-Peuple
3rd June 2020 – The BICC are pleased to announce that for the 2020 racing season the haulage for all races will be contracted out to Walkers Transport. The BICC is delighted to be working with Walkers who have years of experience of pigeons and livestock across the EU. This new agreement will enable the BICC to have overseas racing whilst complying with all the necessary regulations. We are looking forwards to working with Mark Walker and His Team for 2020 and beyond.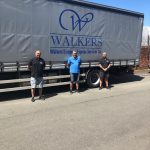 The race program has altered in order to accommodate most of the Internationals as well. 17th, July would have been a double-header as Pau is same day but the club have opted to drop Pau and concentrate on Agen which will be an OPEN race for any fancier wishing to dip their toes on the water for the very first time at an International race point. The club has come close to breaking to 1,000 bird barrier twice – Let's hope we do it this year. Updated Race Programme Here
Bordeaux has been moved back a week to replace Alencon                                                                                                             
Barcelona and St. Vincent will be a double-header weekend with two consecutive basketing days here.
Committee agreed to hold our next presentation weekend which is first weekend in February 2021 at The Imperial Hotel in Torquay. A magnificent Hotel overlooking Torbay. Mark; myself; Albi Deacon; Kevin Buddle all commented that they had been there and it is in keeping with the quality the BICC wish to aim for. More details to follow.
1st June 2020 – Marking Stations now opened  Crick and Gwent. 
Ash, Horndean, Steventon and Higham are CLOSED until further notice.
Herne Bay will only open if we get International racing.
Rest of Marking Stations open as per list Marking Stations
28th May 2020– Guernsey (as of 28/05/2020) has been replaced with Coutances code 5112
Breaking news 22nd May 2020 – the RPRA late this afternoon confirmed in a written message, that the BICC will be going to France for first race June 13th.
Race programme released 14th May 2020 subject to change here
Update 12th April 2020 …. Various options regarding racing being considered by the committee and we will update you as these ideas are mulled over in the coming weeks. In the meantime … STAY HOME  .. STAY SAFE ….  and support the NHS.
Statement from the RPRA 25th March 2020
The following content has been agreed by members of the Confederation including RPRA, NEHU, SHU, WHU but excluding the IHU.
As of 23rd March the UK Government brought in further restrictions to limit the spread and impact of the coronavirus. As a direct result
Pigeon racing will be suspended until at least 23rd May 2020.
The RPRA and other Unions will continue to monitor the situation, and updates will be published when available. Furthermore, the following applies to all members: training of pigeons is classed as non-essential travel and is therefore strictly prohibited. Care of your birds We understand that many members will be very worried about how to care for their pigeons, especially if you keep them at a location away from home. Some key points to consider: Attending to the basic needs of your pigeons should be considered as 'essential', such travel is allowed – but you still need to comply with all of the latest government guidance. Further advice -be prepared: Planning ahead is essential, and you should have alternative arrangements ready in case you are unable to attend to your pigeons for any reason. The most important scenario to plan for is how your pigeons will be cared for if you become ill – ensure you have arrangements with your friends, family or fellow fanciers to be able to look after your pigeons in your absence. Q&A I am self-isolating, but I feel OK. Can I go to my pigeons as normal? If you develop any kind of symptoms such as a raised temperature or persistent cough, current government guidance is that you should self-isolate for a minimum of seven days. Any pigeons kept away from home will have to be looked after by someone else for your period of self-isolation. Try to ensure that you always have enough food to last a fortnight at the loft. I have been diagnosed with Covid-19. What should I do ? If you have been diagnosed with Covid-19, the government guidance is that you must not leave your house, unless you are being moved to a hospital. So, someone else will need to look after your pigeons until you have recovered. You must not be tempted to continue looking after your pigeons until after you have recovered. Delivery of One Loft birds: The latest Government restrictions highlighted that all non-essential travel should be avoided. Therefore entrants to the RPRA One Loft should be delivered using a courier.
Ian Evans CEO
New Press Officer for 2020 … Mike Jackson …. full details New Press Officer
Change of Racepoints for 2020  .. Tours not longer available and replaced with Langeais (5136). Perpignan withdrawn as a International racepoint and will be replaced in due course.
Late Bred Sale (starting 30/01/2020) on behalf of; and with the intention to purchase, a memorial trophy for our Late Ex-President John Tyerman Auction Advert here
BICC Autumn 2019 Newsletter Click > > > Here
Marking Station updates July 2019
Herne Bay marking for Narbonne only to 8:30 to 10:00am Monday
Sunbury Narbonne marking Sunday 13:00 to 14:30
Higham marking times are 1430 to 1630 hrs Click > > > Here
Brighton have a new location Whitehawk Football Club Terrapura Ground, East Brighton Park. The Avenue, Brighton BN2 5TS
Full detail with times and map Click > > > Here
Subject: RPRA Drug Testing Program 2019   full detail here
Subject: Registration of NWHU rings                                                                  Download statement here and Registration form here
With effect from 22nd February 2019 all rings issued by the North West Homing Union (NWHU) that are raced or shown under RPRA rules have to be registered with the RPRA by 1st April (or 1st July for 2019 rings). This follows the decision taken by the RPRA council that all rings issued by unions that are not members of the British Confederation should be registered. The cost of registration is 30p per ring. The registration document below should be completed and returned to Royal Pigeon Racing Association, Reddings House, The Reddings, Cheltenham GL51 6RN before 1st April (or 1st July for 2019 rings). Confirmation will be issued by the RPRA to the owner as evidence of registration. The registration form can be downloaded from the RPRA website and will also be published in this week's BHW. The background to this decision is as follows: the sport in general is coming under ever-increasing pressure from animal rights groups and those interested in Animal Welfare. The RPRA receives weekly emails from groups and individuals who would like to see an end to pigeon racing. In 2018 a well known animal rights group approached the cross channel ferry companies requesting they stop transporting racing pigeons to France. Therefore, I am sure you agree that we should do everything possible to ensure that pigeons raced under RPRA rules continue to benefit from the best possible animal welfare conditions – this includes the repatriation of strays. The vast majority of unions in the UK deal with the stray issue in an acceptable manner. The RPRA has a designated team during office hours and an online 'stray wizard' for use at other times. Unfortunately, due to a high number of complaints received at the RPRA HQ in 2018 there are concerns in relation to the ability of the NWHU to repatriate strays in a way that I am sure 99% of fanciers would consider appropriate. To ensure that pigeons raced under RPRA rules continue to benefit from the high standards of animal welfare the RPRA council has reluctantly taken the decision to impose the requirement to register all NWHU rings raced under RPRA rules prior to the 2019 season.
Ian Evans Chief Executive RPRA